Stephen Rees
ELRIG Chairman
Steve is Vice-President of Screening Sciences and Sample Management at AstraZeneca, Alderley Park, responsible for developing hit identification, compound profiling, sample management and open innovation strategies. Steve has led multiple international collaborations and has authored >60 scientific papers. In addition to his role at ELRIG, Steve is a member of the SLAS Europe Council and the BBSRC panel of experts.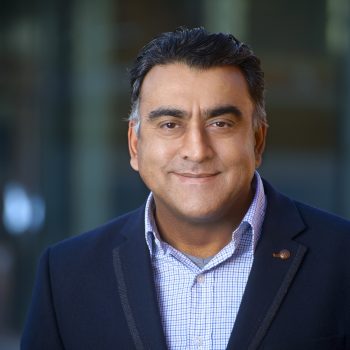 Sanj Kumar
ELRIG General Manager
As general manager of ELRIG, my role is to help fulfill ELRIG's vision of providing a communication forum for the UK drug discovery and research community. We are proud that we run so many meetings per year, each of which has innovative technology as a theme, and world renowned speakers presenting their research. We are supported by the vendor community and remain strictly not for profit, with the board providing their help and support without remuneration. ELRIG is a world class organization and has links to other LRIGs, as well as other scientific bodies. I have been involved with ELRIG for over 10 years and I am also the General Manager of DiscoveRx Europe, which gives me the skills needed to help manage ELRIG operationally as well as strategically, as I am very well connected in the drug discovery industry.
Fabrice Turlais
ELRIG Board Member
Del Trezise
ELRIG Board Member
Del joined the ELRIG board in 2017, following several years as the Scientific Program Chair for ELRIG DD. Trained in Pharmacology & Physiology, and with 20 years + experience in biotech and large pharma, Del is passionate about drug discovery networks and collaborations between industry, academia and tools providers. Del is currently Director & European Site Head for Essen BioScience.
Chris Williams
ELRIG Board Member
Chris is an in vitro pharmacologist with over 20 years of experience in the pharmaceutical industry. She has worked at Pfizer, UCB, Ipsen and the NHS demonstrating a breadth of scientific, project, business and change management experience. She is an advocate for collaborative working (whether it be within or across organizations) and is passionate about what people and teams can achieve when they are engaged and empowered. This philosophy is the driving force behind her coaching & consulting business, Questae. She is Treasurer Elect and a Fellow of the British Pharmacological Society as well as being a member of the Board at ELRIG UK.
Paul Kendall
ELRIG Board Member
Paul is an industrial engineer by trade and has been involved in business development within industrial automation for nearly 25 years. During his career he has been involved in many industries including factory automation, process automation, food and beverage, printing and life sciences. Working within an international new markets group, Paul was heavily involved in the development of a market approach to the Lab Automation and Medical Device markets for Festo bringing together application knowhow with industrial automation robustness and best practice. Today, he leads a strategic team to develop the GB market as well as continuing to support business development internationally and is focused on delivering high quality and technically leading solutions into the market as well as helping customers develop and maintain competitive advantage. Paul is an active board member for the ELRIG (European Laboratory Research Interest Group) and has been a member of the ELRIG General Committee since 2016.
Melanie Leveridge
ELRIG Board Member
Melanie is the Director of GSK's Screening Profiling and Mechanistic Biology UK team, within the global NCE (New Chemical Entity) molecular discovery organisation. Melanie has been with GSK since 2005 and in this time has held roles of increasing responsibility in a variety of small molecule discovery platform groups, leading teams to deliver high throughput screening, lead optimisation profiling, assay development and mechanistic biology studies. Melanie is also passionate about technology and capability development, and has led numerous technology development collaborations particularly in the application of high throughput mass spectrometry techniques for screening and compound profiling, a topic on which she has published a number of peer reviewed articles.
Melanie has been an active member of ELRIG for several years and currently serves as ELRIG Science Strategy Director.

Join us on LinkedIn
Join an ever growing group of scientific professionals
Emma Howarth
(Langton Howarth)
Emma Shanks
(Beatson Institute)
Michael Howell
(The Crick Institute)
Ned Wakeman
(Biohub, Alderley Park)
Catherine Kettleborough
(LifeArc)
Stuart Baddeley
(GlaxoSmithKline)
Claire Kelly
(Liverpool University)
Clare Viney
(Careers Research & Advisory Centre)
Jeanette Woolard
(Nottingham University)
Jennifer Mitchell
(Liverpool University)
Ana Narvaez
(AstraZeneca)
Saleha Patel
(AstraZeneca)
Chun-Wa Chung
(GlaxoSmithKline)
Darren Cawkill
(Apollo Therapeutics)
Eric Tang
(TEK Biomedical)
Mark Wigglesworth
(Astrazeneca)
Mike Kerins
(Cambridge Bioscience)
Rachel Grimley
(Astrazeneca)
David Cronk
(Charles River Laboratories)
Tim Hammonds
(Cancer Research Technology)
Jonathan Hutchinson
(GlaxoSmithKline)
Thomas Lundback
(AstraZeneca)
Bob VanderJeugt
(Perkin Elmer)
Devin Donnelly
(Labcyte)
Gerry Alden
(Biosero)
Haakon Howard
(Wildcat Laboratory Solutions)
Jane Spencer-Fry
(UPM Kymmene UK Ltd)
Malcolm Crook
(PAA Automation)
Mark Stephens
(Beckman Coulter)
Thomas Edmonds
(Servier)
Adrian Kinkaid
(MIP Diagnostics)
Kevin Moore
(Tecan)
Liz Quinn
(Takara)
Lotta Räty
(Miltenyi Biotec)
Morgane Larret
(ABL Europe)
Marc Chambon
(EPFL)